Get to Know Singapore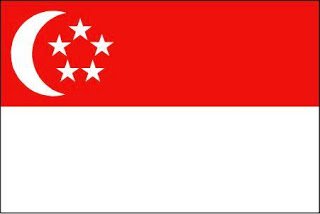 The National Flag of Singapore . The Red Colour Represents equality of all mankind and universal brotherhood. The White Colour stands for virtue and pure. The Moon symbolise for a young country and the five stars signifies justice, equality,progress, peace and democracy. With a total area of just 685 kilometres, It's is one of the 20 smallest countries in the world. There are Some 6 millions of people lives in Singapore. The people of Singapore lives in harmony regardless of different races. The four main races are Chinese, Malay, Tamil and Eurasians. You can also find people of other culture like South East Asia , Middle East and Europeans working and living together in this small island. The Four Official Language are Chinese , Malay , Tamil and English. Because of this multi culture diversity, almost every child in Singapore can speak two languages, English and their own mother tongue language. A Beautiful Small Island located in the East, Singapore is unique!
Singapore
Singapore, often referred to as the lion city and the world's only island city-state, gained her independence from Britain in 1963. After early years of agitation and despite lacking natural resources and a hinterland, the nation developed rapidly as an Asian Tiger Economy, based on external trade and its human capital. A global commerce, finance and transport hub. One of the best place to do business, with the best investment potential. The Singapore Airlines (SIA) and Changi Airport, both amongst the most-awarded in their industry. Also ranked high on its social policies. Its cultural diversity is reflected in its extensive ethnic "hawker" cuisine and major festivals – Chinese, Malay, Indian, western – core principles are multiculturalism, meritocracy and secularism. Noted for its effective, incorrupt governance and civil service. It is ranked as Asia's most influential city and 4th in the world by Forbes. Singapore is one of the original Four Asian Tigers, known as one of the freest, most innovative, most competitive, most dynamic and most business friendly. It's a place that attracts a large amount of foreign investment as a result of its location, skilled workforce, low tax rates, advanced infrastructure and zero tolerance against corruption. Tourism also creates a large aspect of the Singapore community. Also, promotes itself as a medical tourism hub; about 200,000 foreigners seek medical care each year. Singapore has four major official languages: English, Malay, Tamil, and Mandarin Chinese. Mandarin is the language that is spoken as the native tongue by the greater number of the Singaporean, about half of them. It is the most common language in the country with around 1.2 million using it as their home language. Singapore has one of the lowest rate of drug use in the world. Also, low rate of alcohol consumption and low levels of violent crimes, and one of the lowest intentional homicide rate globally. Foreigners makes up to 42% of the population and have a strong influence on the Singaporean culture. The best quality of life in Asia and sixth overall in the world is the great state "Singapore ". Although small in size, but variety of religions and culture are present. Language, religion, and culture among Singaporean are not depicted according to skin colour or ancestry. The behaviours and attitudes of any Singaporean is largely influenced by, among many other things, his or her home language and religion. Racial and religious harmony is regarded by Singaporean as a crucial part of Singapore success, and also played a key role in the building of a great and lasting Singaporean identity. The diversity of food is sometimes seen as a reason to visit the country, and the variety of food representing different ethnicities is seen by her government as a symbol of its multiculturalism. The Singapore culture is a unique and harmonious blend of different races, religions, and traditions. To Learn a mandarin language Course in Singapore, You may try Mandarin Course Singapore .